Welcome to It's Perfect Malibu

Our Mission is to help our clientele achieve life-long goals regarding sobriety, health, spirituality, peace, and happiness… and to have fun embracing a new, healthy way of life. At It's Perfect Malibu we use a combination of Eastern and Western Holistic Medicinal techniques to create the most customized program for you.
Decisions on Recovery
One of the most crucial decisions in your recovery is to choose a safe place to transition back into everyday life after completing treatment and before returning home.  It's Perfect Malibu offers a fun and soothing environment in addition to an unparalleled aftercare program, to aid you into your new lifestyle.
Realizing Your Potential
Here at It's Perfect Malibu we have fun in our sobriety!  After treatment, many people are left feeling unsatisfied and go back to their old way of living, even if they remain abstinent from alcohol and drugs. At It's Perfect Malibu, our goal is to help clients realize their potential and explore the other aspects of a happy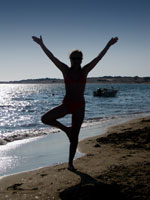 and healthy sober lifestyle aside from abstinence. Proper nutrition and exercise are emphasized to help strengthen clients, both physically and mentally. After prolonged periods of abusing alcohol and/or drugs, your bodies are in a state of imbalance, which in turn affects how you feel, think, and act. Maintaining an active lifestyle (yoga, paddle boarding, surfing, hiking, etc.) and eating healthy, organic foods and superfoods will help provide the nourishment your body needs to function at its highest potential.
Making Connections
Another key part of the recovery process is the camaraderie clients feel by connecting with one another, the staff, and the local sober community, and having some fun! We will help you create and implement your recovery plan and strengthen the foundation that will give you the best chance of success in your new choice of lifestyle, all while in the comfortable and luxurious environment of the It's Perfect house in Malibu, California.
Our Commitment
We strive to help our residents regain the self-esteem that may have been lost over the years and to learn, on a daily basis, how to achieve happiness and peace, while continuing to make healthy choices. It's Perfect Malibu can help complete the transition to success.